TO BOOK A WORKSHOP AT ANTHONY's CREATURAMA EXHIBITION AT ARRETON BARNS, ISLE OF WIGHT, PLEASE GO TO THE SHOP PAGE AND FOLLOW THE WORKSHOP LINK.
Workshops in Schools
Creating 3D Masks, models and costumes is a very rewarding activity for children. It is a way of Active Learning about many KS2 art, science and history topics.
During educational workshops artist Anthony James presents some of his incredible masks, models and costumes used in CREATURAMA exhibitions, theatre, film and television productions. He talks about his work, its design and its construction to delight and inspire both staff and pupils. Anthony then helps pupils to build their own fabulous creations using household junk and recycled materials. During workshops Anthony stresses the importance of research, design, technology and imagination.
Anthony has worked in education for over twenty five years. He is DBS checked and can provide references if required.
Individual Workshops and school residencies are also available, as are a range of educational resource materials.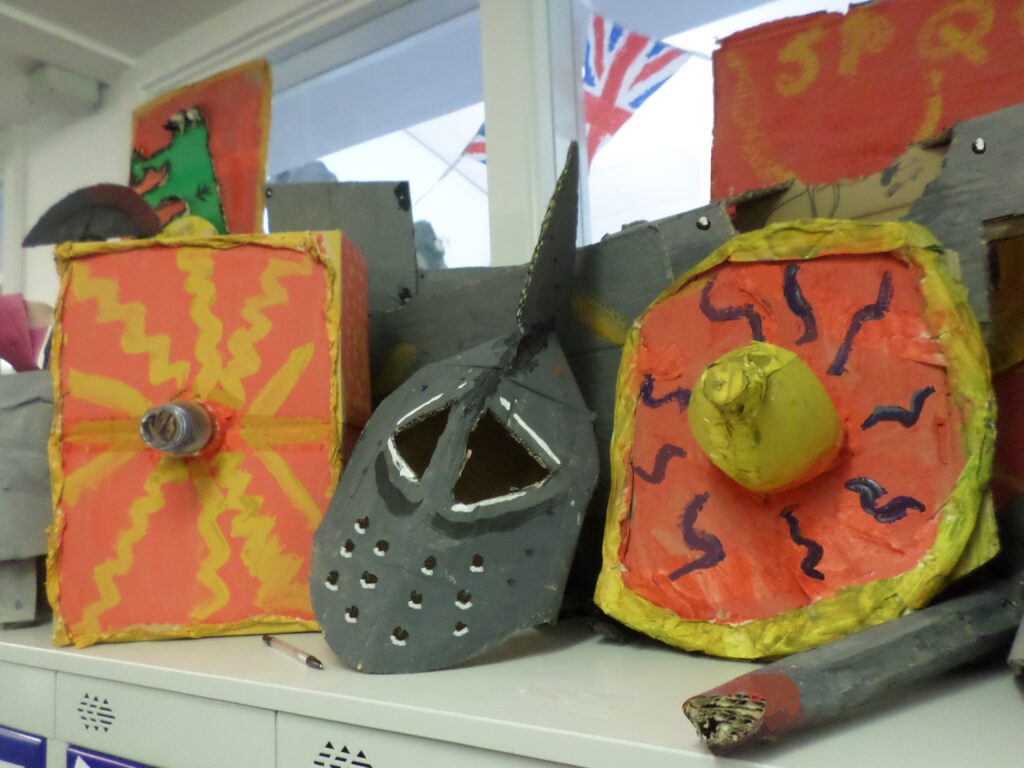 Formats Available
ALIENS.ROBOTS.DINOSAURS.EGYPTIANS.GREEK LEGENDS.VIKING. ROMAN. NATIVE AMERICAN.SPACE.MOONS & PLANETS.PIRATE.AFRICAN MASK.DRAGON.MINI MONSTERS.DEEP SEA.TUDOR WARSHIP.VICTORIAN INVENTIONS & WEIRD WEEDS.
Other formats can be available on request.
CHARGES
£350 per workshop + travel where indicated.
Payment MUST be received on actual workshop day.
Cancellation fee applicable if cancelled less than 14 days prior to workshop date.
Workshops are full day events. 35 Children Max per group. A school dinner is requested.
Anthony can give the initial talk to unlimited numbers or can run a themed Assembly.
RESIDENCY CHARGES
2 Day Workshop £700.
3 Day Workshop £900 (Includes £150 Discount)
4 Day Workshop £1200 (Includes £200 Discount)
5 Day Workshop £1450 (Includes £300 Discount)
These are the materials you will need.
1. Wide Masking Tape – 5cm (2') is vital and workshops cannot run without it. 2. Scissors. 3. Cereal Boxes. 4. Old Newspapers. 5. Brown Cardboard. 6 Plastic bottles. 7. Cardboard Tubes. 8. Plastic containers. 9. Water based paints.
For Pirate, African Mask & Tudor Warship three small garden canes per child are also required.